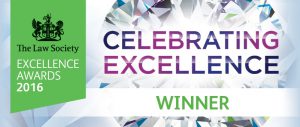 Tonight, we will be joining the crème de la crème of the legal profession in England and Wales at the Law Society Excellence Awards ceremony at the Hilton Park Lane Hotel.
I am so proud that our law firm, Cohen Davis, has been shortlisted by the Law Society judges for an award in Excellence in Client Care Service.  We work hard every day to make people happy, to improve the quality of their lives and to make their experience in receiving legal services exceptionally rewarding. We do our best to deliver an outstanding level of client care with our internet law services to all our clients by opening our process up to them with our Legal Teamwork App, which lets our clients see everything we do, as we do it, live in real time, and by sharing with them our thoughts and strategies minute by minute, step by step.
Curiously, in the early days of the firm, when I told my colleagues that we were going to deliver an App that lets our clients see everything we do, they all thought I was out of my mind.
Last year, we decided to take things further and limit our project intake to 45 at any given time with the intention of maximising the quality and speed of our work, basically placing quality before profit. This means that some clients have to wait sometimes for up to 2-3 weeks before we begin work on their projects.  Again, many of my colleagues thought I had completely lost the plot. Since when do solicitors say "no" to work?
They said that if we were that honest with people, we would scare them off and they will go elsewhere, where they think their internet law matter will be dealt with faster. This didn't happen and those who know me well, also know that "grab as much as you can" has never been my thing anyway. So yes, sometimes clients need to wait for their project to get a formal start date but so far everyone has accepted this with grace because clients understand the benefit of doing things properly and thoroughly and of being told the truth about timescales. Every internet law case is different and every individual and business are also unique so we must give people the time and attention they really deserve.
So forget the ceremony and the champagne that will be pouring tonight at the Law Society Excellence Awards ceremony because what makes it worthwhile, for me at least, is those touching testimonials that keep coming.
Thank you all.